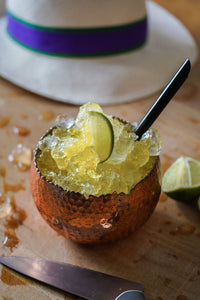 Organic Palma Vodka from the Island of Mallorca is used to create this wonderful Mallorcan Mule. 
To achieve a great cocktail you must use the best products available. Palma Vodka's unique flavour profile comes from the Flor de Sal salt, which captures the subtle essence of the Mediterranean Sea and produces this wonderfully smooth Vodka.
Mallorcan Mule
50ml  Palma Vodka
15ml Lime Juice
Small bottle of Ginger Beer
A few drops of Angostura's Bitters
A lime wedge & sprig of mint
Method
Fill a golden mule mug with ice, pour over the Vodka Palma and lime juice. Top with ginger beer. Garnish with an Angostura's Bitters soaked lime wedge and a sprig of mint.
---