Palma Gin
Distilled with organic juniper berries, citrus, and wildflowers foraged from the orchards of Mallorca, Palma Gin captures the essence of island life in a bottle.
PADRÓ & CO
For more than a century, Padró and Co's Spanish vermouth has been central to Mediterranean life. Infused with spices and aromatic herbs, you'll find this traditional vermouth gracing the tables of bars and cafés all along the Spanish coastline.
Cucielo
Every bottle of Cucielo vermouth offers a portal into the lush greenery of Italy's Piemonte region. From the white vermouth's subtle notes of crisp apple, pomegranate, and elderflower to the red vermouth's rich blend of bitter orange, gentian, and vanilla, Cucielo gives you the beauty of nature in a bottle.
SPRISSETTO
Produced in the Veneto region of Italy, Sprissetto offers a range of aromatic bitters infused with sweet orange blossom, secret tinctures, and ancient wisdom.
AWARD WINNING SPIRITS - EXQUISITE COLLECTIONS
Aperitivo comes from the Latin "aperire" – "to open." Though an aperitif may open a meal, there is far more depth and richness to this concept. The 'Aperitivo' culture is about sharing, celebrating life, and connecting with those who make it meaningful. At Aperitivo Importers, our mission is simple: to share the beauty of this joyful culture. From Spanish gin to Italian vermouth, we provide everything you need to appreciate the art of Aperitivo.
Padró & Co
Aged to perfection, with a carefully balanced array of botanicals, Padró & Co is Spanish vermouth at its finest. From the sweet herbs and elegant complexity of the Blanco Reserva to the zesty aroma and spiced richness of the Rojo Amargo, each bottle is its own sensorial adventure.
Sprissetto
Elevate your cocktails with the finest Italian bitters, crafted to a centuries-old manuscript that can still be found, perfectly preserved at the Sprissetto distillery.
Palma Collection
Enjoyed on their own or in your favourite cocktail, these award-winning Spanish spirits from Mallorca Distillery will transport you to the Mediterranean with their exquisite hand picked botanicals.
★★★★★

Europe came to us this year. We love the taste of our Vermouth! Wonderful service, prompt delivery and amazing product. We can't wait to try them all.

Danielle Collins

Potts Point, NSW
★★★★★

You were right! The Palma Gin has been a lock down lift.
A magnificent drop!

Shane Hart

Melbourne, VIC
★★★★★

We have discovered a new love... Vermouth. We are officially hooked.

Bob and Sandy

Brisbane QLD
Cucielo
The decision to buy vermouth may seem like a simple one, yet it opens you up to a world of lush and flavourful cocktails. From the classic Martinez to the elegant Negroni, Cucielo's Italian vermouth adds an abundance of aromatic botanicals to the mix.
Gift cards now available
Say it with a gift card. A sophisticated gesture for that special someone or valued colleague.
Shop Gift Cards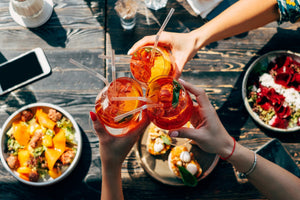 Celebrate Life
Celebrate Aperitivo