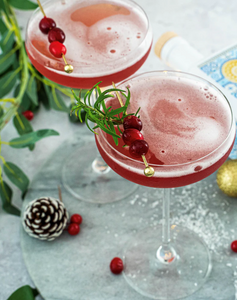 The Palma Cranberry Gin Fizz is the drink to enjoy when celebrating during the festive season. This cocktail combines fresh cranberry juice and citrus flavours to add some extra cheer to your Christmas Party Cocktail.
Ingredients
50ml Palma Gin
30ml Cranberry Juice
30ml Marsuret Prosecco Docc
15ml Lime Juice
Method
Combine the Palma Gin, cranberry juice and lime juice in a cocktail shaker filled with ice. Shake until chilled. Pour into a glass and top off with Marsuret Prosecco.
Garnish with Cranberries
---